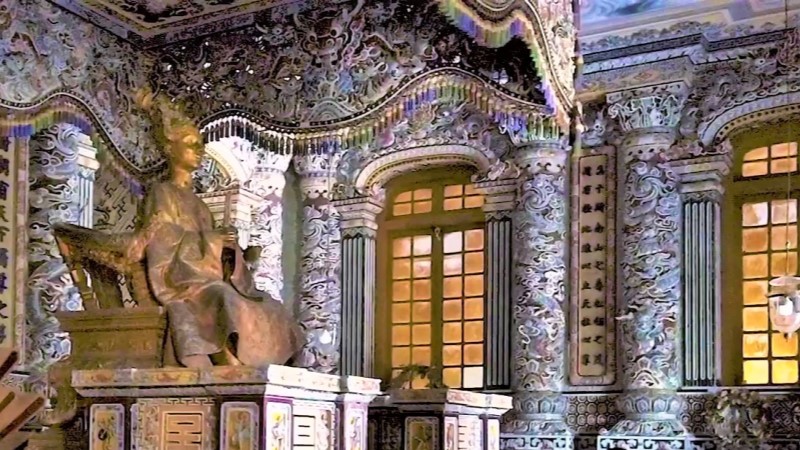 Khai Dinh, the son of King Dong Khanh, was born in 1885. He reigned from 1916 until his death in 1925. He is the 12th king of Nguyen dynasty. Khai Dinh Mausoleum is the last royal tomb built in Vietnam.  This is one of Hue's top attractions should not be missed out.
Khai Dinh Mausoleum is also called the tomb of king Khai Dinh. His tomb is really unique among the royal tombs. It is smaller, but far more elaborate and costly than his predecessors' ones. It was established on Chau Chu hill, about 10 km from Hue center. The construction began in 1920 and lasted in 11 years. Lots of materials for this structure were bought from abroad. It is said that Khai Dinh raised tax by 30 percent to fund his lavish mausoleum which infuriated Vietnamese people. The complex was completed in 1931 by Bao Dai, the last king in Vietnam.
In term of architecture, unlike other royal tombs which are designed on traditional motifs, Khai Dinh tomb is a blend of many styles from Eastern to Western. Its main parts include an entrance, honor court, and Thien Dinh palace. The entrance is a concrete stair with dragons lying alongside. The honor court consists of an octagonal stele pavilion situated in center, and honor guards including stone mandarins, horses, and elephants on the both sides. The highest position and most important part is Thien Dinh palace. It consists of many valuable objects and paintings including mosaic pictures, Khai Dinh statue (cast in France), and a large mural of Cuu Long An Van (nine dragon amidst clouds) on the ceiling.
Reference related to Hue
→ Thien Mu Pagoda
⇒ Hue Excursion 1 Day