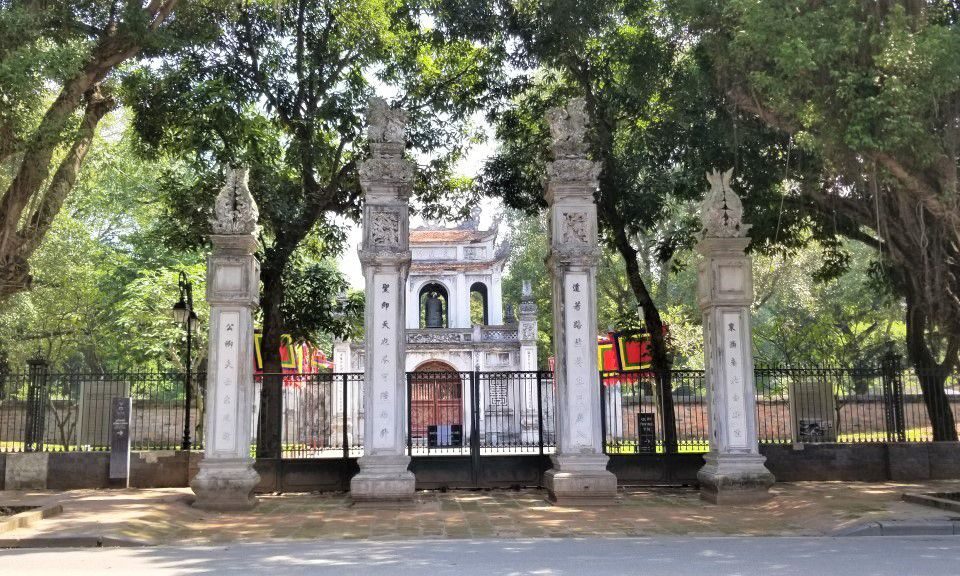 Temple of Literature is Vietnam's most renowned Confucian temple. It was built in 1070 , reconstructed and repaired several times in subsequent periods. Despite test of time, its ancient architecture and many relics have been preserved. It is also a place in honour of scholars and those who made great contributions in national progress.
In 1076, Quoc Tu Giam – Vietnam's first university was established in the campus of Van Mieu. Initially, only sons from royal and senior official families could study here. Later, sons from common families were allowed to enter this university if they had talent. The university remained open until 1779. When King Gia Long founded Nguyen dynasty and made Hue the national capital in 1802, education central role was also transferred to this new capital.
The whole complex covers an area of 54,000 square meters including exterior and interior sections. The exterior part has Van lake and Giam garden. The interior part consists of 5 courtyards surrounded by brick walls.
Interior courtyards
The first courtyard is from the Great Portico to the Dai Trung (Great middle gate). Two smaller gates on the left and right side are Thanh Duc (Virtue gate) and Dai Tai (Talent gate). Their meanings reflects king's expectation for those who studied here: virtue and talent.
Second courtyard is known as the great central courtyard. Its feature is the Khue Van Cac, a unique architectural pavilion built in 1805. There is a bronze bell hangs inside, often rung on special occasions. Khue Van Cac is based on four stone pillars. Its name implied the wish for prosperous education (Khue is the brightest star in the sky, Van means literature).
The third courtyard has a well in square shape named Thien Quang (well of heavenly clarity), and 2 great pavilions housing doctoral steles on either side of the well. These steles are based on stone turtles and engraved with the names of successful candidates as well as historical events of national exams. These valuable resources have been used to study philosophy history, and educational culture in Vietnam.
The forth courtyard is ceremonial centre of the complex. There are two halls along either side, and Dai Bai Duong (House of ceremonies) at the centre. Right behind Dai Bai Duong is Thuong Dien dedicated to Confucius and his 4 best disciples Yanhui, Zengshen, Zisi and Mencius.
The fifth courtyard was set up as an imperial academy in 1076. It was enlarged in 1236 with the name Quoc Hoc Vien or Quoc Tu Giam (translated as National University). In 1802, King Gia Long transferred its function to Hue. This area was destroyed in 1946 by war and rebuilt in 2000. The worshipping house has 2 floors. The ground one is a place dedicated to Chu Văn An (academy rector), Vietnam's most famous Confucian teacher. The upper floor is the statues of three Kings who contributed in foundation and development of this complex: Ly Thanh Tong (1023-1072, founded the temple), Ly Nhan Tong (1066-1127, established National University), and Le Thanh Tong (1442-1497, ordered erection of doctoral steles in 1484)
Don't miss out on this cultural and academic spot
Today, the Temple of Literature is one of the most renown historical sites – a must-see in Hanoi. The sanctuary reminds us of remembering and respecting those who made achievements for the nation. It also remind us of passion for learning to contribute in the national development.
Related Tours
→ A 1-Day Hanoi Excursion
⇒ Hanoi Street Food Experience