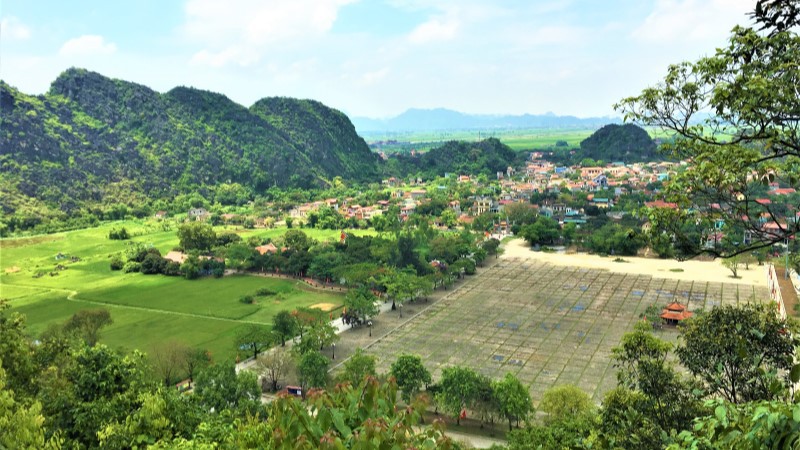 Hoa Lu Ancient Capital
Hoa Lu Ancient Capital is located in Truong Yen Village, 90 km south of Hanoi. It is considered the first capital of centralized feudal administration in Vietnamese history.
According to history documents, following years of civil war, Dinh Bo Linh (known as Dinh Tien Hoang when he became the king), Hoa Lu's warlord, unified the country in 968. He proclaimed himself emperor and chose Hoa Lu to be the capital of his kingdom. This capital went through 3 dynasties (Dinh, Pre-Le, and Ly) from 968 to 1010. King Ly Thai To then transferred the capital to Thang Long (Hanoi today).
The former capital covers an area of about 300 ha. There were once palaces, and temples, and citadels with defensive earthen walls. Unfortunately, many of them have been gone. Some valuable monuments have still retained until now such as Dinh Tien Hoang temple, Le Dai Hanh temple, anh Nhat Tru pagoda.
Temple of Kinh Dinh Tien Hoang
It was built in the 11th century and rebuilt in 17th century. This spot is one of the most beautiful historical sites remaining until now in Hoa Lu. The temple was believed to be built on former foundation of a palace. Its layout is designed in harmony with nature. There are lots of things for you to see here including worshiping areas, ponds, gardens, and plants and rock miniatures.
Temple of King Le Dai Hanh
Just 300 m away, this spot is smaller than Dinh temple. However, architecture, art, and statues of Le temple are similar to those of the 1st one. It features a great example of architecture and carving of Post-Le dynasty (17th century).
Nhat Tru Pagoda (One Pillar Pagoda)
It was an old pagoda built in the 10th century by King Le Dai Hanh. The site covers an area of 3000 m2. Come here, you not only find valuable antiquities related to Hoa Lu capital's history, but also enjoy tranquil atmosphere.
Reference
→ Top Attractions in Ninh Binh
⇒ A 1-day Ninh Binh Excursion
⇒ Ninh Binh Tour in 2 Days