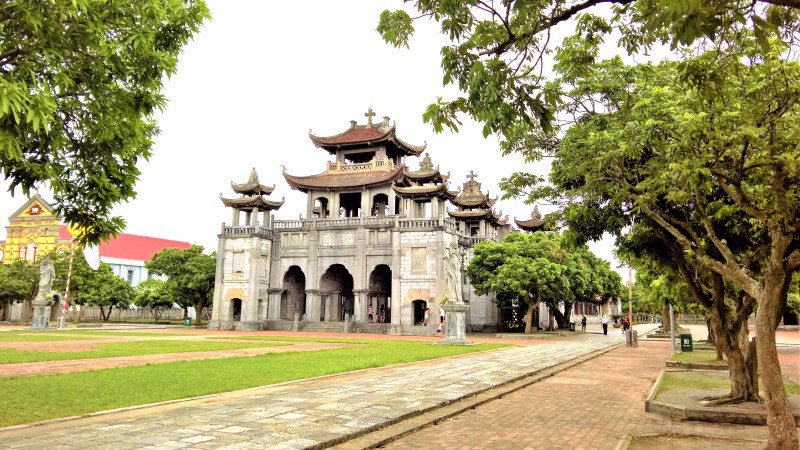 Phat Diem Cathedral
Located in Kim Son district belonging to Ninh Binh province (120 km from Hanoi), Phat Diem is one of the most beautiful churches in Vietnam. It was built from 1875 to 1899 by Priest Tran Luc. Part of Phat Diem Cathedral was destroyed by bomb in 1972 and later restored.
Construction
Phat Diem Cathedral was mostly constructed with stones and wood. Before building the Cathedral, Tran Luc ordered to set up foundation carefully. He had an artificial grotto built to test the soil first as at that time, this location was a reed grown alluvial plane which is very soft. He then had millions of bamboo driven into ground after deep excavation. Next, earth and gravel were poured on, and bamboo rafts were embedded before the foundation was laid and all structures were gradually set up.
Overall layout
Phat Diem Cathedral is one of Vietnam's masterpieces in architecture. It is a blend of Vietnamese and European styles. The complex resembles communal halls and temples characterized by several tiers of overhanging curved roofs. This site consists of a lake, a bell tower, a grand cathedral, 5 chapels, and 3 artificial grottoes.
Bell Tower
The Tower resembles communal house which can be seen in most villages in Northern Vietnam. It is a huge stone structure with three stories. The first level has three compartments. each houses a stone slab serving as a common seat. The top has a two-ton bell cast in 1890. Once beaten, its sound can spread out to 10 km around. Bell Tower was completed in 1899, which was the year of Priest Tran Luc's death. It is said that there were more than 40,000 people attending his funeral.
Grand Cathedral
The cathedral is 74 m long, 21 m wide, and 15 m high. Its roofs rests on 52 ironwood pillars, of which, 16 are 11 m high and 7 tons in weight. The altar, made of a single slab, is situated in the front worship area. There are portrait paintings of 30 missionaries. The interiors is also decorated paintings of angels and symbols associated to Vietnamese culture like dragons, phoenixes, unicorns, and tortoises.
Chapels
Five Chapels are dotted around the Grand Cathedral. Each has its own impressive features, especially, the Stone Chapel "Immaculate Heart". The Stone Chapel was built in 1883 with everything made of stone.
Phat Diem was originally a parish before becoming the seat of the new diocese in 1901. For its religious position and unique architecture, undoubtedly, Phat Diem is one of top attractions in Ninh Binh.